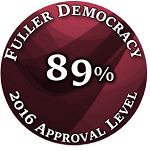 The keystone of my housing policy is the introduction of rent caps that will limit the rate at which rent can be increased. In Fuller Democracy 2016, 89% of people who took part voted in favour of introducing rent caps that are pegged to inflation. Rent caps will stabilize housing prices in both the rental and home ownership markets, with no negative repercussions for home owners. These rent caps would apply to the property rather than the tenancy, meaning that a landlord could not get around them by evicting their tenants and hiking the rent dramatically for the next occupants.
By providing rent caps we will reduce the number of people who need to avail of social housing and housing assistance payment. While there will always be a need for social housing, there should not be a need for it among people who are employed, as is the case today. Indeed, it is an insult to working people not to be able to afford the roof over their own heads. At the moment, there is not even an appreciable gap between earning enough to pay the higher income tax rate of 40% and little enough to qualify for social housing in Fingal. In a well-run country with joined-up thinking, there should be quite a wide margin between the point where a person needs assistance for something as basic as shelter and the point where they are paying the top tax rate. If that is not the case, there is only one reason for it: housing prices are too high compared to wages and people are making more from 'rent-seeking' activities (…like charging rent) than from productive income. Rent caps allow housing prices to stabilize while wages gradually creep up without creating a shock to the housing market.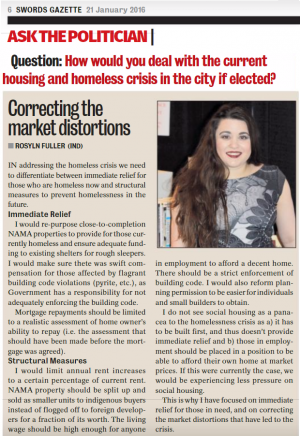 In the long run, fewer people will need to avail of social housing and that means we will be in a better position to meet demand for it.  
The real beneficiaries of providing social housing (and housing assistance) to people in employment are the companies employing those people (because they are enabled to pay their employees less than the basic costs of living demand) and private landlords (who are overcharging rent to people on housing assistance, because they know they will get the money from the government).
I wrote about this in the Swords Gazette (now Fingal Gazette) in the run-up to the last election. Click on the image to read the full edition (interview is on page 6).
In addition, bringing interest rates down on mortgages is also a key point of my policy. Irish mortgage holders pay a higher rate of interest than mortgage holders in other European countries. This means that we can end up paying tens of thousands of Euros more for a mortgage on an equivalent value house. Again, this is money that is essentially being sucked straight out of the economy. Your house isn't worth more just because you paid more for it in terms of interest. Putting this money back into people's pockets in terms of disposable income would help them and have a positive effect on the economy.